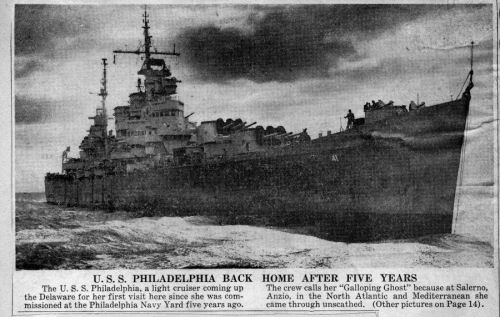 In October 1945 the USS Philadelphia came home from WWII.
In October 2007 the ship came home to me
in the form of my father's album and diary.
While I remember seeing the album as a little girl,
I never knew the diary existed.
Frank Paukstis served on this ship 1943-1945.
I've created this website in his memory and as a tribute to all those who served on the "Galloping Ghost"
---
Postcards from Shore Leave
Africa
French Fleet
Antwerp & Brussels
Plymouth
Monreale
Pompeii
Toulon
Naples
Capri
Malta
Taranto
Palermo:
City
Catacombs
Church
---
Webmaster: backofene@hotmail.com
Contact me if you have information you would like included here.
I welcome comments and suggestions.
I will continue to add material as provided by crew and their families..
Before Enlistment
Browndale, PA & NYA Camp (1938-1939) New York City (1940)
Hauck Mfg. Co (1940 - 1943)
After the war: Dad and Me
"No other Navy at any time has done so much. For your part in these achievements you deserve to be proud as long as you live. The nation which you served at a time of crisis will remember you with gratitude." James Forrestal, Secretary of the Navy
full text
Updated: November 14, 2012